Link (SSB)
Talk

2
1,982pages on
this wiki
This article is about Link's appearance in Super Smash Bros. For other uses, see Link.
Link (Japanese: リンク, Rinku) a starter character in Super Smash Bros. He is the sole representative of The Legend of Zelda series. Having many disjointed melee attacks and two projectile weapons, Link can be a hassle to approach. However, his lack of speed and maneuverability cause problems for Link in approaching an opponent. In fact, much of Link's strategy consists of standing back, throwing a few projectiles, and waiting for an opening. Due to his slow ground movements and attacks, it is imperative that Link players be able to not only short hop, but be able to input an attack immediately afterward.
Link is known in high level competitive play as a very defensive character, relying on bombs and boomerangs to prevent gimps and using back air, up tilt, and up air for combos while using down air, f-smash, down smash, and projectiles for edgeguarding. Link's recovery is so poor that he cannot ever be close to a ledge. Link's poor recovery, and the fact that he is very easily comboed make it difficult for him to win. Link has barely any good match-ups due to this, and is usually considered the worst character to use on Dreamland. For this, he is third to last, 10th, on the tier list.
Attributes
Edit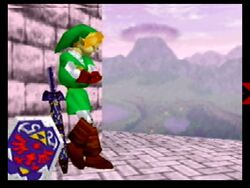 Link has long ranged attacks due to his sword, and they also have good power and priority. On the down side, he also has slow attack and movement speed. His grab is long like his attacks due to being a tether grab, but it leaves him vulnerable if it misses. Link also has two good projectiles, which can lead to some very aesthetic combos. This makes Link tough to approach, and can be used to edge-guard. Link is also heavy, which means he is harder to knock around but easier to combo.
Link's biggest problem is his recovery. Despite possessing the 4th fastest air speed, his very short jumps, fast falling speed (the second fastest in the game) and poor distance both horizontally and vertically of Spin Attack (even descends before the animation is over) makes his recovery arguably the worst in the game. It is also easily edge-guarded, especially by characters with spikes.
Link is very low on the tier list because he is easily gimped and very easily comboed. He doesn't have the large priority of such characters as Falcon or Ness, the combo ability of Falcon or Jigglypuff, or the priority of Pikachu or Kirby, making the best way for Link to win vs these characters is to camp and space.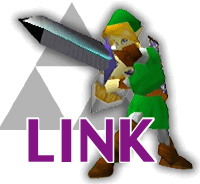 Ground attacks
Edit
Forward Smash - He quickly twirls his sword twice and then slashes forward in a similar fashion to his F-Tilt, but has a bigger blue effect if it hits. Good finisher. 20%.
Up Smash - Triple Up Sword, 7%, 3%, then 12%. Good move for damage racking, as long as the foe doesn't DI out of it. Best suited for heavier characters. This move is somewhat weak for KO-ing, however, at lower percents it can lead into itself, and aerial follow up, or Up B. In most other cases, though, a U-Air or simply some other juggling plan (usually a Bomb readied before the move) is recommended. The range of the move itself isn't that far, it resembles a bunch of Link's Up Tilts in rapid succession, though with less of an arch.
Down Smash - 16% damage. Link rapidly slashes in front of him and then back. The move is a good close up defensive move but also has a good KO-ing property. This move is one of Link's few moves that come out near-instantaneously, and the ending lag isn't that bad either. Assuming the Link player is facing right, when the foe is hit on either side while being closest to Link, they will be sent upwards at a slight right trajectory. When hit at the end of Link's blade, it'll knock the foe in a 45° angle in the direction depending on what side they were hit on.
Other attacks
Edit
Ledge attack - Flips over and slashes outwards. Decent range. 4% damage.
100% ledge attack - Slowly picks himself up and stabs at a slight upward angle. 4% damage.
Floor attack- Slashes on both sides and gets up. 6% damage.
Link, along with Samus, has an "extended grab"- meaning they use a grappler in order to increase their grab length, leading to various combos due to the large grab range.
Forward Throw - Link violently kicks his foe forward with good power. Often throws the foe far enough to set up a quick boomerang or bomb-based edgeguard, or simply one of Link's aerials. 14%
Back Throw - 16% damage. Link takes the foe and kicks them directly behind him. Somewhat better killing power than his forward throw.
Special Moves
Edit
Lowers his right leg and raises his left arm (his sword arm), then pulls his right leg up, pushes his right knee out to his left, points his foot downwards so that the end of his left boot comes to about halfway up his left shinguard.
Super Smash Bros. (N64) Character Matchups

| | | | | | | | | | | | | |
| --- | --- | --- | --- | --- | --- | --- | --- | --- | --- | --- | --- | --- |
|   | | | | | | | | | | | | |
| | | | | | | | | | | | | |
In Single-player
Edit
In the game's single-player mode, Link is the first character the player battles, in which they must face him on Hyrule Castle. If the player is against Link in Single Player mode on Very Easy, he does not attack or move until the player makes the first strike or after a period of time.
Strategies
Edit
Extended Boomerang
Edit
Link's boomerang (neutral B attack) goes farther if it is treated as a smash attack. Quickly tap the control stick to the side while hitting B to extend the range.
Bomb Recovery
Edit
Like Samus, Link can use his bombs to aid his recovery. However, unlike Samus, Link must use a bit of technical skill and timing. While recovering, pull out a bomb and drop it slowly below Link. Continue to Directional Influence toward the stage and then use his B-air. This causes Link to explode toward the platform. He must use his Up B move and land back safely. Link cannot grab the edge because the explosion causes him to face the other direction. To counter this, throw his Boomerang before using his Up B. This technique is extremely situational, and poorly helps to recover in very few cases.
Bomb damages
Edit
Explosion: 5%
Throws

Tilt: 5%
Tilt Up: 5%
Tilt Down: 0%+5% (5%)
Dash: 9%+5% (14%)
Smash: 8%+5% (13%)
Smash Up: 8%+5% (13%)
Smash Down: 0%+5% (5%)

Air Throws

Tilt: 7%+5% (12%)
Tilt Up: 8%+5% (13%)
Tilt Down: 8%+5% (13%)
Smash: 9%+5% (14%)
Smash Up: 11%+5% (16%)
Smash Down: 11%+5% (16%)
Description
Edit
Link is the valiant boy hero of "Legend of Zelda" series in which he fights against the evil Ganon to recover the Triforce. Though his tools may change with each adventure, his strength and righteousness remain constant. With his trusty sword and a variety of weapons, he takes his adventures head on!
Works:
Costume Gallery
Edit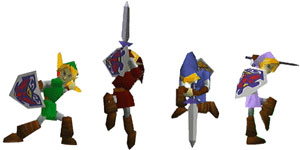 When Link picks up a battering item, his dash attack will show him using his sword and the item he's wielding.
A level 3 Link CPU on any stage will always use a bomb as his first attack and a level 9 Link on the Hyrule Castle stage will always use his boomerang as his first attack, making them very predictable and easy to approach.
Link is stronger in the European version of Super Smash Bros., as his Side Smash causes 24% instead of 20% and he has better air speed, improving his recovery.
In the Japanese version of Super Smash Bros., Link's sword has a reflection metal effect, while the western version does not, making his sword more plastic looking.
Link, along with Kirby, Pikachu, Donkey Kong and Yoshi, is the only character to open his mouth in Super Smash Bros..