Luigi (SSB)
Talk

5
1,983pages on
this wiki
This article is about Luigi's appearance in Super Smash Bros. For other uses, see Luigi.
Luigi (ルイージ, Ruīji) appears in Super Smash Bros. as one of the four unlockable characters. Throughout Nintendo history, he has always lived in Mario's shadow. Super Smash Bros. is no exception, as Luigi is often considered as just an inferior clone of Mario. Regardless, Luigi should not be underestimated, as his combos, although less varied and versatile than Mario's, can be followed by his devastating Super Jump Punch attack.
He is currently 11th on the tier list for his floating ability and overall awkward physics, despite some devastating combos involving his Super Jump Punch.
How to Unlock Luigi
Edit
Successfully complete Break the Targets with each of the eight original characters. Then Luigi has to be faced with the last character whose test was completed in Peach's Castle.
Attributes
Edit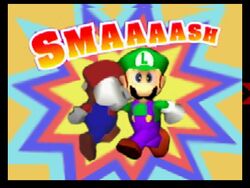 Luigi's main problem is inferiority, as most characters, especially Mario, can do what he can do, only better. Some useful tools with Luigi include using a projectile for approach, combo "drill" kicks, and a powerful spike to KO an opponent. However, Luigi suffers some problems, since his approach outside of his Fireball is poor, he has a high short jump and low range, coupled with predictable, albeit good recovery.
He also has mediocre grabs and slow movement. Luigi is floaty, which can be good or bad depending on the situation. His Forward Aerial and Down Aerial can be comboed into his extremely powerful Super Jump Punch. His Down Aerial allows him to pseudo-spike all characters but other Luigis, Mario, and Pikachu, which have even (or better in Pikachu's case) recoveries than Luigi. His high initial jump (the highest in the game) is decent for stages like Hyrule, which allows him to set up combos. His Down Special Move, Luigi Cyclone, with button mashing, gains height. When coupled with his Super Jump Punch, these recovery abilities can be used effectively. His Smash Attacks are also powerful.
Unfortunately, most characters just accomplish what Luigi does more effectively. For example, at a higher level, Luigi cannot combo as well, as his Down Aerial is a "drill", which is the easiest type of move to DI out of in Super Smash Bros. Luigi heavily counters Jigglypuff, however, and does well vs DK and the other low tiers, but he does have problems with Ness and Link.
Note: Luigi is the only "clone" character in Super Smash Bros. He shares almost all of his moves with Mario, albeit a few differences. Thus, this moveset will be somewhat redundant to Mario's.
Ground Moves
Edit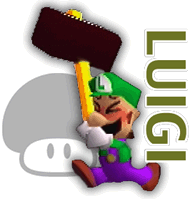 Forward Smash - Super Punch. The exact same as Mario's, Luigi holds back for a second and punches with an enlarged fist. 15% damage.
Up Smash - Headbutt. His head rears upwards with good KO power. 19% damage.
Down Smash - Breakdance. Faster than Mario's, and good damage and power. 17% damage.
Other Attacks
Edit
Ledge Attack - Gets up and somersaults. 6% damage.
100% Ledge Attack - Slowly gets up and kicks. 6% damage.
Floor Attack - Breakdances and gets up, similar to his Down Smash. 6% damage.
Forward Throw - Same as Mario, swings foe once and tosses them in front with good power. 16% damage.
Back Throw - Swings three times and tosses foe behind with excellent KO power. 12% damage.
Special Moves
Edit
Puts his arms by his sides and slightly behind him, lowers his head and kicks with his left foot. If the foot connects with an opponent it deals 1% damage with set knockback and stun. This is the only damaging taunt in Super Smash Bros.. It is possible for a team of two Luigis to perform an infinite combo on lighter characters such as Jigglypuff using nothing but their taunt. It can be seen here.
Super Smash Bros. (N64) Character Matchups

| | | | | | | | | | | | | |
| --- | --- | --- | --- | --- | --- | --- | --- | --- | --- | --- | --- | --- |
|   | | | | | | | | | | | | |
| | | | | | | | | | | | | |
Techniques
Edit
Cyclone Recovery
Edit
Luigi can gain vertical distance during the Luigi Cyclone if the B button is mashed often enough during the attack animation.
Mario Bros. Pseudo Spike
Edit
Both Mario and Luigi can "spike" an opponent by repeatedly using their Down Aerials on the opponent when off the edge and then taking advantage of their huge vertical recoveries to get back to the stage. This does not work against Pikachu, who has a much longer and faster vertical recovery than either Mario or Luigi.
There is a glitch only in Practice Mode. If Luigi gets out Red Shells next to an opponent and then sweetspots his Super Jump Punch, his opponent reaches 500% to 800% percent instantly. [1]
Description
Edit
Though often hidden in his older brother Mario's shadow, Luigi is, in reality, very popular. Taller than Mario, Luigi also jumps higher. Although he didn't appear in Super Mario 64, in Mario Kart 64 he performed to the best of his ability. For one who seems to always seems to be in the background, he has many fans who eagerly await his appearance.
Works:

Luigi appears in Super Smash Bros. twice before being unlocked: in the "How to Play" sequence, and in a 1P Game match in which the player and a randomly chosen ally must defeat Luigi and Mario on Peach's Castle. This makes him the only unlockable character to appear as an opponent in 1P Game.