Multi-Man mode
Talk

9
1,982pages on
this wiki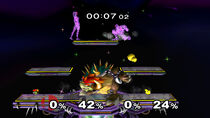 Multi-Man mode is a single-player mode which appears in Super Smash Bros. Melee (as Multi-Man Melee) and Super Smash Bros. Brawl (as Multi-Man Brawl). Both challenge the player to defeat as many opponents as possible, under various pretenses, before falling from the stage or self-destructing, themselves. The opponents vary between both games, where Melee challenges the player to defeat Fighting Wire Frames and Brawl challenges the player to defeat Fighting Alloys. In Brawl, it is possible to play Multi-Man Brawls with up to two players with or without Wi-Fi Connection.
List of Multi-Man Melees and Brawls
Edit
Items that don't appear in Multi-Man Brawl
Edit
Other Multi-Man Melees
Edit
In Multi-Man Brawl, there can be up to 7 characters playing at a time. This is unobtainable in any other mode.
During Multi-Man Brawl, whenever the KO count is two or one lower than a multiple of 25 (i.e. 25, 50, 75, etc...), a normal character is spawned instead of an Alloy.
In Multi-Man Brawl, each Alloy uses the same moveset as other Brawl characters. Red is Captain Falcon. Green is Kirby. Blue Alloys are Zelda. Yellow is Mario.