Mushroom: Kingdom II
Talk

5
1,982pages on
this wiki
Mushroom Kingdom II (Japanese:キノコ王国 II) is an unlockable stage in Super Smash Bros. Melee. It is unlocked by obtaining the Birdo Trophy. Luigi is fought when unlocked here, even if the Birdo trophy has not been obtained. It is Luigi's home stage, mostly, but Mario and Peach are also natives. In All-Star mode, this stage is played on when the player faces Dr. Mario and any of his teammates.
Contrary to what its name suggests, this stage is derived from Super Mario Bros. 2's Subcon area (specifically the version seen in the 16-bit remakes of SMB2), rather than the famous Mushroom Kingdom location. It is made up of 3 sections. There are two upper platforms on either side of the stage and one lower one in the middle. The center platform is actually 2 platforms connected by a log. There is a pit on either side of the middle platform.
Logs come from the waterfall and fall into the pit. One can jump on them, but they fall rapidly. On occasion, Birdo will appear from the side of the screen and lob eggs into the fray. The eggs can be broken and sometimes have items in them. Birdo can be knocked out, but she will come back. Pidgit will fly over the center on a carpet, which one can jump on.
Strengths/weakness in characters
Edit
This stage is from Super Mario Bros. 2 which itself was based on the game Doki Doki Panic. In the ending cut-scene of that game it is revealed that the game took place in Mario's dream. Also, the world that Super Mario Bros. 2 takes place in isn't located in the Mushroom Kingdom, but in Subcon. Despite all this when a player selects this stage it says "Mushroom Kingdom II"; however, when a player unlocks Mushroom: Kingdom II the message that comes up says,"Mushroom Kingdom II is open; it's the dream world, Subcon!".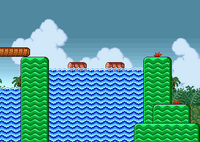 The overall design of the features of this stage (the ground, logs, waterfall, etc.) look similar to as they do in Doki Doki Panic and Super Mario Bros. 2. In 1993 Super Mario All-Stars was released, which was a compilation of older Mario games at the time with graphical enhancements. The graphics used in Mushroom Kingdom II are based of the graphical enhancement in the Super Mario All-Stars version of Super Mario Bros. 2.
This stage is based off of the first area of Doki Doki Panic and Super Mario Bros. 2. In both games the player has to jump on falling logs that go down waterfalls. Logs were also used logs as platforms or bridges that span over gaps. In this stage there are falling logs and there are three logs in the center of this stage that is used as a bridge. Super Mario Bros. 2 and Doki Doki Panic also features an enemy named Pidgit that flies around on a carpet. This enemy can be seen flying around on this stage and is used as a moving platform. The first boss of the game, Birdo, can be seen in this stage shooting eggs at the players.
The music for this stage is the original 8-bit song appearing in the first level of Doki Doki Panic. In a Super Sudden Death match, or when time is about to be up (under 20 seconds), the music will change to boss music in Doki Doki Panic. (Both are also featured in Super Mario Bros. 2.)
Birdo shoots either one or three eggs across the stage. These eggs can be caught aerially, and if thrown at an opponent, do massive damage - Up to 28%. Birdo can also be knocked away with one of its own eggs, just like in the original game.
When caught and held, Birdo's eggs are 2-D and are almost invisible unless the character holding the egg turns around.
This is one of the only two stages to change music when time goes under twenty seconds, the other being Mushroom: Kingdom.