Otacon
Talk

0
1,983pages on
this wiki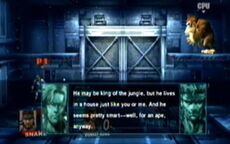 Otacon, whose real name is Hal Emmerich, is a character from the Metal Gear series who makes his first appearance in Metal Gear Solid. He is the one who helped design Metal Gear REX, unaware of its true purpose. With guilt all over his feelings, he assists Snake in dissembling Metal Gear REX. However, he is slowed down by a love of the famous sniper, "Sniper Wolf." If the player submit to torture in MGS, he is the one you will escape with and will give Snake (and by extension, the player) his stealth camouflage system, seeing no need to hide anymore. Said item is unlocked for use on the player's next playthrough.
He returns in Metal Gear Solid 2: Sons of Liberty as part of the Philanthropy group, an anti-Metal Gear organization. His stepsister, Emma (Whom he calls "E.E.") also appears.
He continues to assist Snake in Metal Gear Solid 4: Guns of the Patriots and builds Metal Gear MK. II, a diminutive robotic navigator of sorts to help Snake on the field.
Otacon appears in Shadow Moses Island and communicates Snake via Codec and informs about the fighters in the battlefield. Otacon informs Snake about Donkey Kong, Diddy Kong, Link, Samus, Yoshi, Kirby, Captain Falcon, Mr. Game & Watch, Pit, Ganondorf, Sonic and R.O.B. And, if Snake happens to get K.O.ed while Otacon is on the communication line, he says the infamous line no Metal Gear Solid player wants to hear- "Snake? Snake? Snaaaakkkkeee!"