Pikachu (SSB)
Talk

7
1,982pages on
this wiki
This article is about Pikachu's appearance in Super Smash Bros. For other uses, see Pikachu.
Pikachu (ピカチュウ, Pikachū) is a starter character in Super Smash Bros. and is notorious for its high priority aerials, good edgeguarding ability, and superb recovery. A versatile character with very few weaknesses, opponents should never rush straight at Pikachu, as its aerials are deadly and are good for countering.
It is currently ranked 1st on the tier list for its solid attack power, good comboing ability, and arguably the best recovery in Super Smash Bros.
Attributes
Edit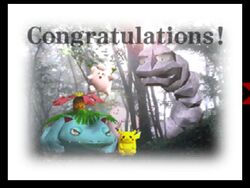 Pikachu is a small, very quick character with high-priority moves, great finishers, and a powerful Back Throw. Its Thunder Jolt is almost useless, but can sometimes help with edgeguarding. Quick Attack is arguably the best recovery move in Super Smash Bros., as it can be extended to be incredibly useful in recovery situations, can be used to attack someone off the stage and then recover back, or as a resort to leave battle to evade an attack to start a combo. Although Pikachu doesn't gain as much horizontal and vertical distance as Jigglypuff and Kirby, respectively, it is much harder to edgeguard, due to the handy invincibility frames from Quick Attack.
Its edgeguarding abilities are very impressive, adding to its infinite edge stall. Pikachu is also known for its great combo starters. Its attacks, most notably its Forward Smash, have strange hitboxes, and it also is an excellent finisher as well. Its comboing ability is amazing, most notably repeated Up Aerials and Thunder-Spiking, which involves using an Up Smash, and while the opponent is high enough, hit them with Thunder, the only attack in the game with infinite vertical range. Up Tilt, like most others, is an exceptional combo in Up Smash. Overall, Pikachu has only a few even matchups, with the main ones being Fox on Hyrule Castle and Captain Falcon on Dreamland, and in every other matchup, Pikachu is at least 60-40.
The problems Pikachu faces are small, but still noticeable. It is easily comboed, along with its light weight, despite usually being able to get out of bad situations with its high priority attacks and being able to Up B out of opponent hits. Its Up B, despite its invincibility frames and wonderful range, leaves Pikachu vulnerable. If one can overcome these small issues, Pikachu will be a deadly force to be reckoned with.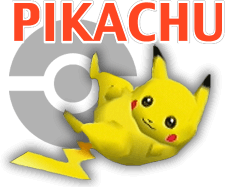 Ground Moves
Edit
Smash Attacks
Edit
Forward Smash - Pikachu releases a short jolt of electricity from its cheeks. Very high priority, one of Pikachu's best killing moves. A bit of start-up lag, but very good range and priority. 16% damage.
Down smash - Pikachu does a sweep kick, covering both sides. A less used and slightly less powerful version of the Forward Tilt, randomly used for mindgames. Very powerful knockback. 16% front hit, 14% back hit.
Up smash - Pikachu does a tail flip. Very useful, can combo heavy chars also using up tilt, aerials and Thunder, a good killing move, high priority. 14%.
Other attacks
Edit
Ledge Attack - Very quickly gets back up and flip kicks. 6% damage.
100% Ledge Attack - Slowly gets up and whips its tail. 6% damage.
Floor Attack - Swirls around with its foot extended. 6% damage.
Aerial attacks
Edit
Forward Throw - Pikachu grabs the foe, flips and releases them. Average throw power. 14% damage.
Back Throw - Pikachu puts the foe on its back and releases electricity. Very powerful. This throw would later become Pikachu's Forward Throw in future Super Smash Bros. iterations. 18% damage.
Special Moves
Edit
Turns to its left, stands on tiptoes, lowers its tail, waves its arms four times, and looks to its left then to its right, accompanied by it saying "Pika Pika!" (the "a" is much longer in the second "Pika").
Super Smash Bros. (N64) Character Matchups

| | | | | | | | | | | | | |
| --- | --- | --- | --- | --- | --- | --- | --- | --- | --- | --- | --- | --- |
|   | | | | | | | | | | | | |
| | | | | | | | | | | | | |
Combos and General Strategy
Edit
Extended Quick Attack
Edit
Pikachu's already long recovery can be extended even further by letting the analog stick snap back to neutral position before the end of the second quick attack. This can also be used on the first quick attack, but runs a high risk of missing the second quick attack.
Thunder-Spiking
Edit
Launching the opponent straight up (usually with an Up smash) and using Thunder (Pikachu's Down B) is called "Thunder-Spiking." Thunder-Spiking is usually used as a combo finisher. Unlike Pikachu's Thunder in Super Smash Bros. Melee, Thunder in Super Smash Bros. has infinite vertical range. This technique allows Pikachu to get a vertical kill at around 40% damage sooner than just a normal Up smash.
Description
Edit
Pikachu
Mouse PKMN
Height 1'4"
Weight 13 lbs
When several of these Pokémon gather, their electricity could cause lightning storms.
(Pokédex excerpt)

Works:
Costume Gallery
Edit
Pikachu is the only character in Super Smash Bros., and one of the few in the series' history to not have a spike.
Pikachu, along with Jigglypuff, Kirby, Link, Donkey Kong, and Yoshi, is one of the only characters to open its mouth in Super Smash Bros.
Pikachu is the only character in Super Smash Bros. who carries an item in its mouth instead of its hands.
All of Pikachu's static and electric effects are rendered in 2-D due to limitations.
Pikachu is capable of Star KOing itself on Bonus Stages 1 and 2.