Pit
Talk

18
1,982pages on
this wiki
For fighter info, see Pit (SSBB).
Pit

Official artwork of Pit from the game Kid Icarus: Uprising. His modern design made its debut in Super Smash Bros. Brawl, and was used again for Uprising.
Universe
Kid Icarus
Debut
Kid Icarus (1986)
Appears in
SSBB
Console of origin
Nintendo Entertainment System
Species
Angel
Gender
Male
Hair color
Brown
Eye color
Blue
Homeworld
Angel Land
Created by
Gunpei Yokoi, Satoru Okada
Designed by
Toru Osawa (old), Masahiro Sakurai (current)
English voice actor
Lani Minella
Japanese voice actor
Minami Takayama
Pit (ピット, Pitto) is the main playable character of the Kid Icarus games.
Character description
Edit
Pit is an angel from Angel Land. His wings are only strong enough to fly for short distances, unless he has the Wings of Icarus. Taking up his sacred bow to stop the dark goddess, Medusa, he set out to gather the Three Sacred Treasures - the Light Arrow, the Mirror Shield, and the Wings of Pegasus - when Medusa attacked his home of Skyworld and imprisoned Palutena, the benevolent goddess of Angel Land. Fighting his way through the Underworld, Overworld, and Skyworld, Pit was able to gather the three treasures and defeat Medusa, ending her threat.
Pit appeared again in Kid Icarus: Of Myths and Monsters for the Game Boy, which served as the only sequel in his series for nearly 20 years. In this game, Pit was sent to train and gather the Three Sacred Treasures again so that he could defeat a monster called Orcos. This game tends to go largely unnoticed, partially due to the fact that it was not released in Japan. However, aspects of Pit's design that were introduced in this game, such as his redesigned blue eyes, brown hair, and crown of laurel, as well as the design of the series' logo, made reappearances years later in Super Smash Bros. Brawl.
Following a surge of fan interest in the series due to Pit's appearance as a playable character in Brawl, Pit appeared again in Kid Icarus: Uprising which was developed by Sakurai himself and was released in late March 2012. His design in this game is taken directly from his redesign as featured in Brawl. In this game, Pit is once again tasked with defeating Medusa, who has been revived, and her army of monsters from the Underworld.
In Super Smash Bros.Edit
Pit was originally going to be a playable character in Super Smash Bros., but was cut due to animation problems for his wings that he lost and time constraints. It was also said that Pit was not popular enough at the time.
In Super Smash Bros. MeleeEdit
As a trophy
Edit
The older design of Pit, although having body proportions that are closer to later designs, appears on the trophy named after him. His appearance is supposedly his first in a game in over 20 years. The only way to collect it is to snag it on the Snag the Trophies Bonus Stage. Pit was one of three "retro" characters who were considered for inclusion in Super Smash Bros. Melee, alongside Balloon Fighter and the Ice Climbers. Balloon Fighter and Pit were only included as trophies, but the Ice Climbers barely ousted Pit for the title of playable character. Once again Pit was planned to be a playable character but was again cut due to the problems for his wings he lost and time constraints.
Trophy Description
Edit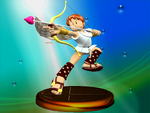 The head of Palutena's personal bodyguards, Pit travelled near and far to gather Three Sacred Treasures that would help him defeat the evil goddess of darkness, Medusa, and free Palutena, the goddess of light. Pit couldn't fly with his little wings; only the Wings of Icarus let him take flight. Will Pit ever fight again?
In Super Smash Bros. BrawlEdit
As a Playable Character
Edit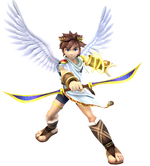 Pit appears as a new playable character in Super Smash Bros. Brawl, thereby answering the question on his Melee trophy with a "yes". He has been heavily redesigned from his original appearance and Melee Trophy, taking on more realistic proportions and is overall much more elegant. He is seen using all three of the Sacred Treasures from Kid Icarus as his Neutral, Up, and Down Special Moves, albeit with changes from the original game. He is also seen splitting the Sacred Bow of Palutena into two sharp blades for his standard attacks, something that was not done in any previous game in the series. His Final Smash is Palutena's Army, where he calls on Palutena to send her army of angel centurions against the other characters.
The design created for Pit in this game is also used in the third game in the Kid Icarus series, Kid Icarus: Uprising, which largely owes its existence to Pit's appearance in Brawl.
Trophy Description
Edit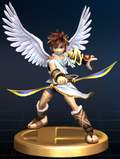 The captain of the royal bodyguards of Palutena, goddess of light and ruler of Angel Land. The dark goddess, Medusa, conquered the underworld, the surface world, and the heavens, and imprisoned Palutena. Pit escaped and, armed with Palutena's magical bow, set out to free her. Along the way, he gathered Three Sacred Treasures with which he challenged Medusa.
The Smash Bros. Series is referenced in Kid Icarus: Uprising :
There is a certain mission in the game in which if Pit equips Palutena's Bow she would congratulate him on how well it suits him. Pit would say ¨I used it in the last brawl.¨ Palutena would act worried and say ¨I could never imagine you in a melee.¨ to which Pit would respond ¨That's because I wasn't.¨ - referencing how Pit is a newcomer in Brawl.
External Links
Edit