Planet Zebes: Brinstar Depths
Talk

17
1,982pages on
this wiki
Brinstar Depths (ブリンスタ深部, Burinsuta Shinbu?) is a stage in Melee that can be unlocked by playing 50 battles in Versus Mode. It is also one of Samus's home stages, but the player plays against Ganondorf and his teammates on this stage in All-Star mode.
The stage is a giant meteor that has one platform at the top and one at the bottom. Often Kraid, the giant alien monster in the background, will rotate the stage. The stage will then be at a different angle when it is rotated. This stage has no ledges no matter how it is rotated. Even if Kraid rotates the stage to how it began, the stage is unlikely to be precisely the same.
The stage also has absurdly low blast lines, which provides an advantage to vertical-killing characters.
Brinstar Depths is usually illegal in both singles and doubles tournaments.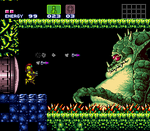 This stage comes from Metroid. The name of this stage could be based on how Kraid is deep below Corridor 1. of Brinstar. Metroid is the first appearance of the mini-boss "Kraid". Kraid is the boss of Brinstar in Super Metroid also. Even though Kraid first appeared in Metroid the design of Kraid in this stage (including his gigantic size) looks like how he appeared in Super Metroid. However, the overall design of this stage's background doesn't look like Kraid's lair in Metroid nor in Super Metroid. Also, the main platform could be trying to give it the "Brinstar" feel to the stage (such as the rocks, the organic growth, etc). [1]
The song played on this stage comes from Metroid. the song is a mix of two songs. The first part is the the music that plays in Kraid's Lair. The second half is the song that plays when in an item room. [2]
There is a glitch where, if timed just right, Kirby or Jigglypuff can float through the stage.
Even though lava is at the bottom of the stage, the player will die before they ever touch it.
In All-Star mode, this is the only example of a borrowed home stage not using different music. When fighting Ganondorf, the Brinstar Depths music plays as normal.
Its possible the organic thing in the middle of the platform is Mother Brain