Saffron City
Talk

8
1,983pages on
this wiki
Saffron City, known in Japan as Yamabuki City (ヤマブキシティ, Yamabuki Shiti), is a playable stage in Super Smash Bros. The stage is based on the Saffron City in Pokémon Red and Blue. This stage is allowed in standard tournaments save for a few situations (see the Trivia section for details).
Saffron City has one main platform attached to a small platform above a door. To the right is a narrow platform and to the left are two elevators (moving platforms). Between these and slightly lower than the other platforms is yet another narrow platform. There are many gaps in-between that character and items can fall into. It is this feature, as well as the fact that it is a stage upon the tops of tall buildings, that makes it similar to the Fourside stage in Super Smash Bros. Melee and New Pork City in Super Smash Bros. BRAWL.
Strengths/weaknesses of characters
Edit
Pokémon appearances
Edit
Every now and then, the door of the Silph Co. building opens, and if the door has been open for a while or if a character approaches the door when it is open, one of five Pokémon will emerge from it. These Pokémon are:
Chansey is the easiest Pokémon to knock out. Unique to this Pokémon is the ability to heal 5% damage by touching it. Chansey spawns eggs, just like the Poké Ball version. It will not spawn eggs if all items are turned off and/or the Appearance% (item spawn frequency) is set to "None".
Charmander can be KOd with very strong attacks such as Kirby's Stone, Pikachu's Thunder, Donkey Kong's fully charged Giant Punch and Captain Falcon's Falcon Punch. Charmander causes 5% damage upon contact, and will sometimes use Flamethrower to shoot Fire Flower-like flames at anyone in its range, each dealing 3% damage. If a character is caught in the flames, there is very little chance of escaping until Charmander goes back inside the building.
Electrode cannot be KOd by any means. After a short time it explodes, dealing 30% damage and large amounts of knockback, KOing characters on higher damage.
Porygon cannot be KOd by any means. It lunges out very quickly, dealing 18% damage upon its appearance and 8% damage thereafter.
Venusaur cannot be KOd by any means. It deals 14% if touched and will sometimes use Razor Leaf to shoot out sharp-edged leaves, each dealing 3% damage.
Flying Pokémon, including Butterfree, Pidgey, Fearow, who may also be spotted in swarms. Though it is very rare, Moltres, sometimes make their way across the background. Moltres is one of the easiest to spot of these Pokémon, as it is bright orange.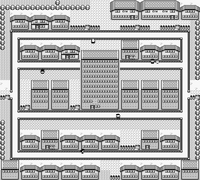 Saffron City made its first appearance in Pokémon Red and Blue. Saffron City is the largest city in the Kanto region, and one of the largest cities in the entire Pokémon universe. The main building of Saffron City, Silph Co., is a major producer of items to benefit Pokémon trainers, producing items such as the Master Ball and the Up-Grade, and it is the rooftop of this building that forms the main platform of the Saffron City stage. In Pokémon Red & Blue, the entire city was taken over by Team Rocket, mainly Silph Co.
Saffron City is also unique in that it is the only city in Kanto to have two Pokémon Gyms, which function next door to each other; however, only one of them, headed by Psychic-type trainer Sabrina, is sanctioned by the Pokémon League, and therefore, it is where players can get the Marsh Badge (which, depending on the progress the player makes through the game, may be the fourth or fifth badge to be obtained there). The other is home to Trainers who specialize in Fighting Pokémon, and is therefore called the Fighting Dojo.
The music heard in this stage first originated from Pokémon Red and Blue's title screen.
Ness cannot use his third jump as the turning circle of PK Thunder is wider than the gaps between the buildings, so it can't be directed underneath Ness to perform PK Thunder 2. This puts Ness at a considerable disadvantage, so in tournaments this stage cannot be selected as the first stage if one of the players uses Ness. It is then labeled as a counterpick.
In Brawl, the final section of the Subspace Emissary stage Glacial Peak features an area similar to this stage except that the building shapes are made of ice.
In Brawl, many people have used the stage builder to re-create this classic stage.
CPU's often walk straight at the door even when it is closed, leaving themselves vulnerable to attack.
In the Japanese version of the game, the Silph logo atop the building is written as "Silf".
External Links
Edit