Satoru Iwata
Talk

0
1,982pages on
this wiki
Satoru Iwata
岩田 聡

Satoru Iwata at E3 2006
Born
December 6, 1959 (age 51)
Sapporo, Japan
Occupation
President, Nintendo Co., Ltd.
Satoru Iwata is the fourth president[1] of Nintendo, succeeding the long-standing previous president of the company, Hiroshi Yamauchi in 2002. He was responsible in great part for defining Nintendo's strategy both before and during the release of its Nintendo GameCube video game console in 2001, a vision which helped Nintendo generate a forty-one percent increase in sales at the end of the 2002 fiscal year.[2]
Barron's Magazine named Iwata one of the world's top CEOs, due mostly to the Wii and Brain Age sales, as well as Nintendo's increased stock price.[3]
Biography
Edit
Early life
Edit
Satoru Iwata was born in Sapporo, Japan. He expressed interest in the creation of video games early on, and began producing electronic games at his home during his high school years. The several simple number games Iwata produced made use of an electronic calculator he shared with his schoolmates. Following high school, Iwata was admitted to the prestigious Tokyo Institute of Technology, where he majored in computer science. While attending the school, he did freelance work for HAL Laboratory, Inc., a subsidiary of Nintendo, as a programmer. Satoru Iwata is currently married.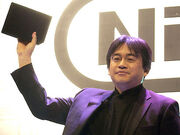 After completing college, Iwata joined HAL Laboratory in a full-time capacity. He became the company's coordinator of software production in 1983. Some of the video games he helped create while he worked there were Balloon Fight, Earthbound, and the Kirby games.[4][5] Iwata was eventually promoted to president of HAL in 1993. Nevertheless, both he and HAL sometimes aided in the creation of Nintendo video games.
In 2000, Iwata took a position at Nintendo as the head of its corporate planning division. When Hiroshi Yamauchi, the company's president since 1949, retired on May 31, 2002, Iwata succeeded as Nintendo's fourth president, and the first unrelated to the Yamauchi family through blood or marriage. He continues to help out at HAL as a consultant. It is said that Iwata still works as an artist there, assisting in creating concept art of Kirby characters for use in the Kirby series of video games. His latest projects are the Wii U and the Nintendo 3DS. He comments on the Wii in his section of Nintendo's Wii website, Iwata Asks. Iwata has also worked on The Legend of Zelda, Mario, and the Animal Crossing series of games. He has also played a cameo in WarioWare: Smooth Moves, where he is referred to as "Shop Manager Iwata".
References
Edit
External links
Edit