Jumping
Talk

0
1,982pages on
this wiki
For the CPU Mode, see Jump (CPU Mode).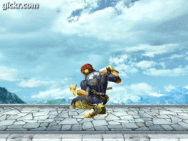 Jumping is an action that moves a character from the ground into midair. It is performed by pressing Up on the control stick, or the X or Y buttons with the GameCube and classic controller, or the C button on the Wii Remote and Nunchuk. All characters can also jump a second time in midair, providing they are not attacking, air-dodging, helpless, in hitstun, or have used it already.
There is a short delay between the Jump button being pressed and the on-screen character actually jumping, during which the onscreen character will enter a crouching portion of their jumping animation. If the Control Stick or jump button is released during this time, then the character short hops. If the Control Stick is tilted backwards during this time, the character will jump backwards with a different animation than a regular jump. If the standard attack button is pressed during this time, then the character uses their Up smash (but only if the jump was executed with the control stick). Because characters can jump while shielding (excluding Yoshi, who has a unique shield), this allows usage of Up smashes (and Up Special Moves as well) without having to drop the shield. This also makes it difficult for a player using the Wii Remote-only control scheme to perform Up tilts.
Jump Height
Edit
Following is a ranking of the characters in Super Smash Bros. Melee based on how high they jump from the ground.
1. Falco
2. Luigi
3. Captain Falcon
4. Donkey Kong
5. Marth
6. Sheik
7-8. Fox, Ice Climbers
9. Young Link
10-11. Samus, Yoshi
12-13. Ness, Pikachu
14. Link
15. Pichu
16. Roy
17-18. Bowser, Mewtwo
19-20. Peach, Zelda
21-22. Dr. Mario, Mario
23. Ganondorf
24. Mr. Game & Watch
25. Kirby
26. Jigglypuff
For more information about jumping physics, see Falling speed, Weight, and Traction.
Short hop
Edit
A short hop is a jump with a lower height than normal. It is achieved by pressing the jump button for a split-second. It is effective with characters with Meteor Smashes.
Footstool Jump
Edit
A Footstool Jump is a technique introduced in Super Smash Bros. Brawl. It happens when a character presses the jump button right when they are above another character. The opponent will tumble downwards.
References
Edit