Smashtasm
Talk

76
1,983pages on
this wiki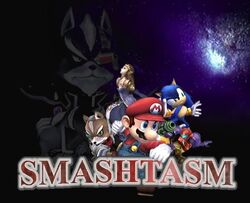 Smashtasm is a Super Smash Bros. Melee and Super Smash Bros. Brawl machinima series created by Shippiddge. It takes place in a fictional world, in which players of Smash Bros. battle against each other online in a server-based system. The first three episodes are filmed using Camera Mode and the others are filmed using Action Replay. It was the first Smash Bros. machinima to make use of actual voice actors.
Season Plots
Edit
Season 1 (Jan 14th 2007-May 24th 2008)
Edit
The plot follows a Mario player under the name of Super64, who enters a Hyrule Temple server, thinking that he is participating in a tournament. Upon entering that server, he is hit by a Bowser player, who is revealed to be named "Killa7", and is sent flying off the stage.
Super64 recovers in a Corneria server and meets a Fox player named "1337f0x", who helps him return to the previous server so that Super64 can get his revenge on Killa7. When in that server, 1337f0x leaves him, and Super64 is confronted by a player named "Link", that believes that he actually is Link. After much argument, he forces Super64 to fight him. In the middle of the fight, the Ganondorf player Blakberri breaks into the server and proceeds to fight Link. Super64 thanks Blakberri for saving him, but accidentally says something offensive, causing Blakberri to challenge him to a fight. Super64 accepts the challenge, and is beat up mercilessly. He then calls 1337f0x for help. 1337f0x returns and battles Blakberri in a fight that results in a "tie". Blakberri then suggests that Super64 should go to the server that Killa7 is currently hosting to catch him. He does so, and 1337f0x follows him. When they get to the server (Great Bay), Killa7 escapes.
Upon his escape, Falco player Greg enters the server. He and 1337f0x have a brief conversation, spoken completely in leet (or 1337). 1337f0x then reveals that Greg is a former friend of his that turned evil and had to be banished by 1337f0x himself. Upon his return, Greg challenged 1337f0x to a rematch. Thinking that the server would crash if three people were in it combined with the various hacks installed, 1337f0x kicks Super64 out of the server.
Super64 recovers in a different server (Fountain of Dreams), where he is confronted by a Marth player named "PrinceRok", who forces him to fight. After the fight, Super64 explains the entire plot so far to PrinceRok. PrinceRok proceeds to tell him that he will never catch Killa7 by simply going to his servers. He then enlists the help of his friend, the Pikachu player Pimpachu. Super64 and PrinceRok proceed to Pimpachu's server (Princess Peach's Castle), where it is revealed that Pimpachu has a "rap sheet" that has great information on Killa7 and is able transfer Super64 to his given location at any time. When Super64 tries to take it, Pimpachu demands that he get something in return, so he forces Super64 to battle his friend. If Super64 is to win this battle, he gets the rap sheet. If he loses, he must give the password to his account to Pimpachu.
Super64 then arrives in the Hyrule Temple server, where he battles Pimpachu's 'homeboy', a Samus player with the nickname Lamp. Lamp beats Super64 out of his first life; however, Super64 throws a bomb to knock off a life. The battle eventually goes down to one life each, and Super64 is knocked onto a cliff. However, before Lamp can defeat him, Link runs by, being chased by a horde of Kirbys; one of which who knocks Lamp off the edge. Pimpachu then gives Super64 the rap sheet.
Super64 then chases Killa7 through various servers, until eventually arriving at Hyrule Temple once again. However, before he can deal the final blow, he is stopped by none other then 1337f0x.
Greg appears and takes Killa7 away while 1337f0x tells him what's going on. While fighting against Greg, the two hackers tried to fight by using all of their hacks, but the servers froze every time so they decided to get the two biggest noobs they could find and train them and whoever wins is the better hacker. 1337f0x gets the Mewtwo player MEWzero to train Super64, while Greg tries to train Killa7 himself.
Greg and 1337f0x both took their noobs to Final Destination where the two were to fight. 1337f0x realised that even if Super64 won, Greg would still be evil. 1337f0x decided to raise the stakes. The two who lost would be banned from the server. Greg and 1337fox set their hacks to use on Super64 and Killa7. Killa7 turned into Giga Bowser, and Super64 had all of his moves 'souped up' (For instance, he could do an endless stream of Fireballs if he rapidly hit B.) The two fought, but when they were tied, Killa7 knocked Super64 off the stage, making Super64 and 1337f0x banned. However, Super64 wasn't properly KO'd (signified by the KO explosion not happening).
When Greg knocks down 1337f0x, he's about to use a final blow to ban him from Super Smash Bros. Melee. However, from under the stage, Super64 surprise attacks Killa7, and fatally hits him, ending the fight. When 1337f0x asks him how he lived, Super64 says he never died, he was hiding under the stage because of his cape ability. He remembered that MewZERO once said that the cape would propel him forward. With his moves boosted, the new cape could soar him up to safety. Greg, however, refuses to jump off and be banned, engaging in saying he is Greg, and listens to no one. After he asks who can stop him, the question is answered. From out of nowhere, BlackBerri, PrinceRok, Pimpachu, and Lamp all defeat Greg, banning him. MewZERO brought everyone, including Link, who didn't even know how he got there. Super64 then learns about the importance of fighting, and ends the story, with 1337f0x interrupting him, saying what he said was lame, and ends the story, saying "lulz".
The main sub-plot of the series was when Link became trapped in the DUMMY stage: back at the scene at the Hyrule Temple server (with Link, BlakBerri, and Super64)in episode 3, Link was marked with the P2 symbol. When Super64 called for 1337f0x's help, HE shows up with the P2 icon. Super64 asks what happened to Link when he notices this, and 1337f0x says he "took care of him." Link is then shown to be in the DUMMY stage, asking what happened, when a Kirby appears, and a yellow one appears later. Link asks how to get out of here, but the two Kirbys just endleslly use their taunt. This goes on for a few episodes (with Link getting a few seconds of camera time each) when he snaps and attacks the yellow Kirby. The pink Kirby then Inhales Link, and walks off screen. Later, Kirby spits Link out somewhere else in the same stage, surronded by several other Kirbies. Then, user KingKirb, a giant Kirby with Peach's Crown, shows up, and says thay the Kirbies are his cousin's, and that they don't have mics and communicate with gestures (explaing their endless taunting). Link then lets it slip he attacked one, and KingKirb then orders all the other Kirbies to attack. Link then gets a sudden idea. He then says "Hii" similar to how the Kirbies endlessly taunted HIM. The other Kirbies join in, and then so does KingKirb (causing him to lose his crown, since whenever a Kirby taunts while using an ability, they lose that ability). He gets angry at this, and orders the Kirbies to attack. Link begins to run, and is seen during the battle between Lamp and Super64. He (pursued by several Kirbies), accidently knocks Lamp off the edge, thus allowing Super64 to win.
After the credits roll, Greg is seen, swearing revenge on Super64, but is later revealed to be in the DUMMY stage, along with Killa7, trapped, listening to the two Kirby players repeatedly taunting.
Season 2 (November 3rd-Present Day (Up to Episode 5))
Edit
The 2nd season starts off with a narrator (heard earlier in the Smashtasm Brawl Trailer) introducing the viewer(s) to the world of Super Smash Bros. Brawl. He then introduces Super64 (now a moderator) on the Bridge of Eldin, who was just finishing telling an unnamed Ness player the story of how he saved Melee. The Ness player leaves, and soon after, Pakkery, a Pit-user and Smashtasm messenger, reports to Super64 of hacking activity. Super64 leaves to the new server.
On the Skyworld stage, Super64 finds 1337f0x, and the two talk to each other. Then, a Dark Fox player comes and kicks 1337f0x off the stage. He attempts to KO Super64, but gets knocked off himself. Then, Super64 is knocked out by a Dark Falco player.
Super64 finds himself in a cage in a custom stage. The Dark Fox and Dark Falco players are there, and are revealed to be named Grant (Falco) and Gront (Fox), two low-level grunts. Super64 seems to have no way out, when soon after, Lamp comes along. Super64 persuades Lamp to help open the cage, but Lamp decides to go distract Grant and Gront.
As Lamp is distracting the two grunts, an unnamed Snake player opens to top of the cage, freeing Super64, breaks Super64's neck, and then leaves (As a reference to some of Shippiddge's other videos, which tend to involve Snake being tempted into hunting down Sonic and breaking his neck). Super64 goes over and interrogates Grant, asking about the location of 1337f0x, and their evil plot. After Grant answering false answers and being 'corrected' by Gront, Super64 tosses Grant of the stage, with Gront following after. Super64 decides to go and rescue 1337f0x, and Lamp decides to follow him.
Super64 and Lamp go through various stages looking for 1337f0x, passing players and usually ending up on The Summit. Meanwhile, Grant & Gront return to the base of Girem6, a Dark Wolf player, (Frigate Orpheon frozen in time) after failing to hold in Super64. They meet him. Grant tries to explain their failure to their boss, while Gront, again, gives away the actual information, causing Girem6 to send his guard (a Shadow Bug version of Bowser) to attack Grant, while Gront questions the possibility of failure, followed by more conversation of Grant and Gront's wierd orientation.
Off in New Pork City, Super64 and Lamp are confronted by a Zero Suit Samus in a bikini, who hits on Super64, who is then revealed by Lamp to be only a spam bot (represented by R.O.B.), who explains how he knew it. After the story, not explaining the reason, they appear to be watched by a Dark Meta Knight player, working for Girem6, and notice him, causing him to teleport multiple times while saying, "Crap." before Super64 KO'es him, unable to get more information. Then, while Super64 isn't looking, Lamp is attacked by a Dark Sheik, who talks Super64 into following her.
Back at the base, Girem6 is watching what had previously just happened along with Grant. Lamp somehow managed to get there as well. After another Grant-Gront conversation, Girem6 calls his guard to take Lamp away.
Later, Super64 and the Dark Sheik player are heading toward an unknown spot, as the narrator implies she's evil, and gets into a conversation with her, before she starts threatening to kill to Super64 over him guiding her, before she claims to be kidding, and that they have reached their destination, a stage with a large hole. She directs him to jump in it and he'll find 1337F0x, despite labels revealing it to be a trap portal that causes users to fall perpetually. After a prisoner is tossed in,the Dark Sheik "Sparta kicks" Super64 in, tumbling to his defeat...
After it is revealed that the past three minutes were just an imagination of the Dark Sheik's plan, Super64 is ready to jump in the hole. However, Super64's trust to the Dark Sheik player causes her to have a change of heart, and stops him from falling in. She revealed that falling into the hole would render him incapable of using his mod powers. She then transformed into Zelda, revealing herself to be Princess H, and arguing with the narrator again. As Super64 is about to leave, she calls him back and warns him of the players in his pursuit. She then reveals to have a plan to defeat Girem6.
Meanwhile at Girem6's holding cells, 1337F0x and Lamp are being held in a cage guarded by a Dark Pit. The Dark Pit suggests 1337F0x should log out. He does so, but logs back in and is back in the cage. The Dark Pit taunts 1337F0x and walks off. Lamp then tells 1337F0x of how he learned how to escape, which yet again, is another pointless story. 1337F0x then suggests that they change their costumes.
After a fade out, 1337F0x and Lamp have changed into Dark costumes. The Dark Pit guard comes back. 1337F0x claims to be Gront, and requests that he lets him and "Lump" free. He then does so and they leave. They traverse to another section of the holding cells, where Link is being held. 1337F0x and Lamp get up to help him get out. Once the cage is opened, he runs off. Then Girem6 shows up and takes them back. Back at the cell, Link is nearby and promises to get help (but is distracted by a "Shiny Flying Nut!")
Girem6 was watching it on his monitor, before Gront calls to change the channel, which changes to 'I got it BRAWL on tape!' It shows a replay of Girem6 admiring a dancing Jigglypuff. Girem6 gets angry and demands to know who sent it in, before it is revealed that Grant did it. Grant tries to deny, and Gront backs him up by noting many ways how Grant would not be able to make the replay. Unfortunately for him, Grant denies it claiming he could pull it off, and says in great detail how. Girem6 gets angry and chases him. Right after, the TV reveals the announcer made a mistake and it was Gront who sent it in. Gront and Tyrannosaurus Allen have a short conversation about it, and they leave, having the Narrator confused.
Some where else Super64 And Princessh are planing on getting 5 detonater pecies and destroying Girem6. Meanwhile Grant and Gront hang out a Luigis Mansion and singing mocho man, While Girem6 wacthes them through a two-way mirror and then allen comes in and says he is gonna jump in a tub full of sting rays.
Characters
Edit
Characters in Season One
Edit
Protagonists
Edit
Super64 (voiced by Shippiddge): The main protagonist. Mainly uses Mario. He is considered a "n00b" by other players because of his lack of skill in the game. He likes using items and often makes long speeches, causing other players to leave out of boredom.
1337f0x (voiced by ShadowFox014): A hacker who helps the protagonist throughout the series. Mainly uses Fox. Throughout the series, he speaks in broken English with hints of the 1337 language. It is also revealed that he speaks fluent 1337.
BlakBerri (voiced by Archie_Emerald): A "certified smash professional" who mainly uses Ganondorf. She was the only main girl in the season, and the first to have use a character of the opposite gender. She is roughly equal in skill to 1337f0x. She is also unable to pronounce "Melee", calling it "Meh-lee" in episode 2 and "May-lee" in episode 3. She also seems to be stupid, because she didn't know if she should "find that offensive". She will not appear in Season 2, due to her voice actress's computer crashing.
PrinceRok (voiced by MikeyJC): A Scottish player who mainly uses Marth, but with a white color variation. Thoughout the story, he sees wireframes in front of him that do not exist. According to Pimpachu, he attempted to defeat 20 Wire Frames in Cruel Melee due to the Sonic & Tails Rumor, but failed and has been "seeing them everywhere." He was last seen on the Final Destination stage after helping Super64 defeat Greg. PrinceRok won't return in Season 2, due to MikeyJC's voice recordings taking too long.
Pimpachu (voiced by Autobot71Ironhide; supposed to be voiced by The_Red_Guy, who had trouble with his microphone): A kid that pretends to be a pimp. Mainly uses Pikachu, but with a red color variation. He has the ability to get "rap sheets" that have information on players. Pimpachu won't appear in Season 2, due to his voice actor going through puberty. However, he briefly appears in Beans, where Brawlgasm Snake tries to kill him and eat him. He implies a sort of loneliness after 1337f0x and Snake leave, saying "I just...want...friends...yo".
Lamp (voiced by Matt Vargas (Newdumbich123455432)): Pimpachu's homeboy. He thinks out loud and sometimes does crazy things. If someone can't beat him, Pimpachu will steal the loser's password. He mainly uses Samus, but with a dark purpleish color variation. Like BlakBerri, Lamp uses a character of the opposite gender.
MewZERO/LuZERIO (voiced by Jchaos, AKA WhiteBladeZero): The person 1337f0x gets to train Super64. Mainly uses Mewtwo with a blue color variation. Possibly Japanese. In Beans, where he appeared for the first time as LuZERIO, he talks to Brawlgasm Snake about honor, argues with him, falls in love with him and gets blown up by him.
Antagonists
Edit
Greg (voiced by Cloudy): He is also a hacker that speaks leet-like. Mainly uses Falco, but with a green color variation. He used to be friends with 1337f0x, but after he got "the evil intentions", he was banned with the help of 1337f0x. He will not return in Season 2.
Killa7 (voiced by Arthas): Mainly uses Bowser. He is also known as "the tournament noob", for he is known for luring new players into his server by telling them that they are part of a tournament. Upon their arrival, they seek instruction, only to be knocked off the stage by Killa7. Deliberately has a very annoying voice, and is so horrible at SSBM that he doesn't know how to perform a B-Up, because he can't find the "B-Up button". He was turned into Giga Bowser with the help of Greg during the final fight with Super64, but loses. It is confirmed that he will not appear in Season 2.
KingKirb (voiced by Skylar Falcon): King of the kirbies that live in the DUMMY stage. Only uses Giant Kirby, wearing Peach's crown. He is the only Kirby Player with a microphone; all of the others, his cousins, communicate with gestures. When Link tells him that he attacked one of the Kirbys, the Kirby clan starts chasing after Link.
Minor Characters (most of which are unnamed)
Edit
(unknown Ness player): Briefly shown being beaten by 1337f0x before f0x hears Super64's call for help during the match with BlakBerri in Episode 3. Does not speak in the short scene they are shown in.
(unknown Luigi player)(Voiced by Mike the Weasel): Falls for the same trick Super64 falls for, except on Great Bay. Seen in Episode 4.
(Admin Male Wire Frame)(Voiced by Skylar Falcon): An administrator. In 1337f0x's flashback in Episode 5, he tries to ban Greg, but cannot due to Greg's hacks messing up the server. Not to be confused with the wireframe that PrinceRok fights, which is merely a figment of Rok's imagination.
Narrator (Voiced by Paycheck): Briefly tells the story of Link trying to escape from the DUMMY stage in Episode 5.
(unknown Zelda player)(Voiced by PSL2004): Possibly friends with Pimpachu, but subservient to him. She sticks up for Super64 when he wants to use items in his match with Lamp, but when Pimpachu headbutts her, she doesn't protest. Seen in Episode 8.
(unknown Pichu player)(Voiced by SuperSmashShows): Falls for the same trick that Super64 falls for, except on Yoshi's Island. Seen in Episode 8.
(Kirbo (Name not spoken, name on Script)) (unknown voice actor): Plays as Kirby, but with a white color variation. After Link frightens the Kirbys into a retreat, the unknown Kirby comes up and talks to him, scaring him away. This Kirby probably isn't one of KingKirb's cousins, because he has a mic. Seen in Episode 9.
(Daniel) (mewZERO calls him over, saying his name)(Voiced by Denten): Plays as Mario, but with a green color variation. Antagonizes Super64 as part of MewZERO's training program; specifically, to help Super64 "resist intimidation". Super64 later beats him at the end of Episode 9.
Characters in Season Two
Edit
The Narrator (Voiced by D-Mac Double)
Edit
The narrator is a "a generic voice who doesn't actually exist but moves the plot along for your convenience". He constantly breaks the fourth wall, making references to how he just reads the script and saying that he doesn't care what happens, he gets paid either way. In the prologue to Season 2, he even encounters Shippiddge and BBsman22, who barge in on the voice recording studio to ruin a dramatic moment. Also makes a variety of unfunny jokes.
Protagonists
Edit
Super64 (voiced by Shippiddge): The main protagonist. Still mainly uses Mario. Is now a mod of the Smashtasm servers after defeating Greg in Season 1. As a result, a team of hackers called the Gear Hack Force are out to put him out of commission.
Pakkery: (Voiced by Sonicmega) Mainly uses Pit. Is a character who apparently delivers messages to the characters, as the narrator describes him. He uses a fake British accent (which sounds more like a combination of Australian and British). He reports hacking to Super64 in the first episode of Season 2. He also appears in the 2008 Christmas Special. In episode 4 when SUper64 asks for the message he gets pissed and calls Super64 a dick punches him and leaves saying he hates Super64.
1337f0x (voiced by Shadow Fox): A hacker and one of Super64's friends. Still mainly uses Fox. Is captured early on in the series and is currently trying to escape with the help of Lamp.
Lamp (voiced by Matt Vargas (Newdumbich123455432): One of Super64's friends. He still mains Samus with the purple color variation and makes his strange "Yipee". Offers to help (or rather follow) Super64 in his search for 1337f0x but is shortly captured by the Gear Hack Force. He is currently trying to escape with the help of 1337f0x.
Princess H: (Voiced by Hnilmik) A female Zelda player. She first appeared in Episode 2 as a Dark Sheik, a bounty hunter in the Gear Hack Force. She told Super64 to come with her, while she was leading him into a trap. In the next episode, she realized the error of her ways, transformed into a Blue Zelda, and decided to help Super64. She also tends to talk to the narrator and have random bursts of rage, which often disturb the characters around her. Seems to have a crush on Super64 even though they are only two characters and she doesn't know him personally.
Antagonists
Edit
Girem6: Mentioned by name in Episode One, and introduced in Episode 2. He is the main villain of season two, who uses a Dark Wolf. According to the narrator, he is the leader of the "Gear Hack Force", and swears revenge on Super64 due to the "perma-ban" of his idol, Greg. The character seems to enjoy quoting Wolf's lines from Star Fox 64, as seen in his interaction with 1337f0x is Episode 3. He has a very well morphed voice (greatly resembling that of Andross from Star Fox 64), in episode 5 he revelaed that he actually is Greg trying to get revenge hence Girem6 im Greg (Inverted 6) when Super64 tries the detonator on him and it fails.
Grant (Voiced by Omahdon): A low level grunt who plays a dark-colored variation of Falco. He works alongside Gront. He is the smarter of the pair. In Episode 1, he captures Super64. After Super64 is freed, Super64 interrogates Grant, asking about their evil plan. After getting nowhere, Grant is tossed off the stage.
Gront (Voiced by Omahdon): A grunt that works alongside Grant. He uses a dark colored variation of Fox. He is not very smart, not knowing the difference between kidnappers and gay people. He reveals they are working for somebody named Girem6, and then follows Grant off the side of the stage.
Tyrannosaurus Alan (Voiced by DekuScrubby): A yellow Yoshi that appeared in one of Shippiddge's parody videos (Volcanicity, a parody of the Volvic Water advertisement). He was first seen in the new Season 2 intro, and was confirmed to be in the series during Episode 2, when Girem6 ordered, "Alan, bring up Super64 on the monitor," to which Alan (unseen) replied. This is a different Alan from the Volcanicity short, this new one being evil. He eventually appeared in Episode 3, where he was a completely yellow texture-hacked Yoshi.
Known Future appearances
Edit
Racist Mickey(to be voiced by BigK): A character set to appear in Episode 4. He is a texture hacked Lucario made to look like Mickey Mouse. He likes hearing racist jokes. Guards 4th piece of detonator. Demands that a racist joke is given for the piece.
Spead(to be voiced by GForce): A gold Sonic player. Shown in the intro interacting with Princess H and getting his neck snapped by Snake. Shippiddge has described him to be Sonic on cocaine. He talks fast in a high-pitched voice and always acts before thinking. Set to debut in Episode 5.
Tonto(to be voiced by GeneralIvan): Tonto is a Dark Link player who will be a big part of Link's sub-plot. He is vile, cocky, and deceptive. He's possibly part of the Gear Hack Force knowing of Link's capture. He is set to debut in Episode 5.
MewZERO/LuZERIO (voiced by Jchaos, AKA WhiteBladeZero): MewZERO is confirmed to make a reappearance due to his appearance in Beans and the season 2 intro right after Lamp, and his change in name. Had to change his name to LuZERIO and his character to a white Lucario due to Mewtwo being removed from the fighter roster. It is unknown when he will appear in the series as of yet.
Future: A texture-hacked red Sonic shown in Shippiddge's new intro along with two Timers. Shippiddge's friend, TaFutureBoy (who has been portrayed identical to the character in other videos) revealed he would be playing as 'Future' in Smashtasm. It is unknown when he will appear in the series as of yet. Was revlead in episode 4 when Super64 and Princess H get the 4th piece of the detonator from Racist Mickey.
Luigi character: Is only known to exist because it has been confirmed by Shippiddge. Very little is known about him/her or when he/she will appear.
Unknown Future characters
Edit
Dark Samus: A Dark Samus seen in the intro, likely part of the Gear Hack Force. Also likely to be called "Lump" as an ironic joke.
A Kirby shown in the intro with Link, likely one of KingKirb's cousins. However, it has yet to be seen during the actual progression of the plot.
Minor Characters (some of which are unnamed)
Edit
(unknown Ness player)(Named Brent in script)(Voiced by Brawlkowz): Appears at the beginning of Episode 1, listening to Super64's story of how he saved Smashtasm. When Super64 asks if he wants to be friends, the Ness leaves - "Just like everyone else!" as Super64 laments.
(unknown Snake player): Appears in Episode 1. He frees Super64 from his cell only to break his neck and leave. He also breaks Lamp's neck, in Episode 2, on Shadow Moses Island. It is unknown if he will have any future appearances. It is assumed that this Snake is the same one from various shorts Shippiddge has made, due to that Snake also being mute and having a tendency to break others' necks.
A white colored Peach that appears briefly in Gront's serious joke.
Girem6's guard: One of Girem6's minions, a False Bowser. It is likely the guard won't be a member of the main cast.
Spam Bot: A R.O.B. player in disguise as a texture-hacked scantily clad Zero Suit Samus (voiced by Awamberbuzzkill), who comes on to Super64 before Lamp attacks the bot, revealing its true nature. The bot yells "Curses!" (said by Cheaterboy999) and departs.
Meta-Dark (Voiced by Zeix): An over-dramatic Meta-Knight player. Debuted in Episode 2, however he was not introduced formally due to the absence of the narrator (who decided to balance his chequebook instead). He was revealed to be Meta-Dark in the credits, when it showed the owner of his theme music.
Dark Pit Guard (Voiced by StarYoshi14): A prison guard working for Girem6. He is seen in episode 3 guarding 1337f0x's and Lamp's prison cells. He taunts to them about how they can't escape and leaves. He later returns to find 1337f0x and Lamp in disguise as Gront and "Lump" and lets them out, falling for 1337f0x's plan. It is currently unknown what happened to him after this.
TV Announcer (Voiced by Druox): A TV announcer heard in the invented TV show "I Got It! Brawl On Tape!" in episode 3.
Unknown Jigglypuff Player: Appeared in the tape Gront sent in to "I Got It Brawl On Tape!". Not much is known about her, except that Girem6 thinks she's cute. Does not speak in the short clip she is seen in.
Characters in Lamp's Stories
Edit
The following characters only appear in Lamp's stories.
A Ganondorf player (voiced by BBsman22), given Luigi's moveset and a golden color, who is the presumed leader of Dinnertopia. Another texture hacked Ganondorf appeared in Episode 3 informing Lamp of what to do if trapped in a cage with a Fox player (also voiced by BBsman22). Both bear a great resemblence to "The King" from the Zelda CD-I games.
The Watermelon Monster (voiced by Cheaterboy999), which is in fact a Giant Subspace Bowser.
A white Peach (voiced by Shippiddge), the Ganondorf's daughter. May be the same Peach that appears briefly as the blonde in Gront's serious joke.
Characters in Princess H's imagination
Edit
The following characters only appeared in Princess H's imagination.
Unknown Donkey Kong Player (voiced by COMICAL): He appears while Super64 questioned Dark Sheik if the Trap Portal was real or not. He threw an unknown Fox player into the Trap Portal, and left, complimenting himself.
Unknown Fox Player (voiced by TomKitsune): He is tossed into the Trap Portal by the Unknown Donkey Kong Player. Is it thought that this is the real TomKitsune who is trapped in Brawl in the SSBB machinima, Smash Fighter.
A pure white texture hacked Squirtle called Turty (voiced by COMICAL) that appears to grant Princess H five wishes for defeating Super64. Is revealed to be an armadillo (most likely a joke written by BBsman22). He can fly due to the trapped animation hack.
Rudy (voiced by TomaMoto): A texture hacked Wario character. He randomly pops up telling Turty and Princess H that he is a genius.
Smashtasm Extras
Edit
The series also features some extra short spin-off episodes, centered or not in the series.
1337f0x vs. Greg: A fight featuring 1337f0x and Greg. Was made to test the action scenes of the series. Was eventually integrated into the Season 1 Storyline.
Sparta: A parody of the film 300, featuring Super64 as King Leonidas and a wireframe as Master Hand's (King Xerxes) messenger.
Christmas Special: 1337f0x sings a leet version of the music Jingle Bells called "Jingle Lulz".
Happy New Year: A new year special where Super64 and 1337f0x remember of the main moments of the series.
Knock Knock!: 1337f0x and Super 64 tells Knock Knock jokes to each other. This is the first extra to use Brawl instead of the usual Melee. Also, according to Shippiddge, this was the first machinima done with the US version of Brawl.
Volcanicity: Super64 is throwing fireballs into the water on Jungle Japes when Tyrannosaurus Alan arrives and the two parody the Volvic Water advertisement.
Season 1 Bloopers: A video of various bloopers of the voice actors in which they either forget or mess up their lines or add-lib to try to be funny.
Snakes On The Plane: It's a Snakes On The Plane Parody where 1337f0x acts like Samuel L. Jackson.
Talking to Yourself: Super64 starts to argue with another Super64 and then they meet an evil version of Super64. This is also Shippiddge's first video using the USB Gecko to hack Brawl. This mainly served purpose as a test video.
A Valuable Lesson: Super64 tries to beat Rayquaza with several punches and kicks, but to no avail. 1337Fox, who is standing by, comes over and shoots it, finishing it off. At the end, a messege is seen showing "Guns always solve everything".
Counting Time with Lamp: Lamp does a video on counting with Link. However, he is unable to go past five, and becomes over-dramatic.
Christmas Special (2008): The current cast of Season 2 give each other presents. Lamp gives Super64 socks, Super64 gives Pakkery a box, and Gront gives Grant a bomb.
At certain points, smashers are seemingly incapable of seeing behind them, which makes no sense, given the nature of Super Smash Bros.
Most of the episodes in Season 1 contain a subliminal message that promote Nintendo or the Nintendo Wii.
The one character that Shippiddge would have wanted in Brawl to use for Smashtasm is Peppy. "The Barrel Roll jokes would be endless."
Greg and Grant are the only characters to have a regular name compared to the other characters, unless Link's name actually is Link in real life.
Shippiddge also voices Ganondorf in The Last Tier War, Mario in Silver Crisis, and in "any and all Covenant Underground machinimas where I am needed".
Shippiddge has confirmed that Luigi will be a main character in Season Two.
Olimar's possible name in Smashtasm season 2 is Lepus128, an anagram of Super64. The name was created by both him and MamaKirbyMon. It's not confirmed, but when MamaKirbyMon suggested something else (128Lepus), Shippiddge said "I think I'll keep it at Lepus128." This, of course, is referencing how Olimar is an anagram of Mario, with an L added in.
Shippiddge recently did a collaboration with two other YouTubers with popular Smash machinimas, GuitarmasterX7 and Dexterboy124, called Beans, which features "Smashtasm", GuitarmasterX7's "Brawlgasm", and Dexterboy124's "Wolf's Retarded Mission".
It was discovered by the CFC Forums that characters who will not return in season two are Killa7, Blackberri, Pimpachu and PrinceRok.
 * Suprisingly though when Greg tells all of Smashtasm that he has captured Super64      there are two characters that look like Pimpachu and PrinceRok.
      * This can be confusing since Pimpachu was killed by a car in The Chronciles     of  Pimpachu and Lamp.

Some of the episodes of Season 2 have various clips from other Brawl machinimas, notably Wolf's Retarded Mission made by Dexterboy124 (several sightings of characters and plot points), Brawlgasm made by GuitarMasterX7 (sightings of plot points, gags, and characters), Smash King made by Tigura21 (scene referenced to in episode 2), and Smash Fighter made by TomKitsune (Fox character resembling Tom in episode 3).

Also, Super64 and Lamp made a brief cameo in Smash Fighter, when they were looking for 1337f0x and got distracted.

They were actually different characters with the exact same mannerisms and mission, with Super64 being Ultra128, Lamp being Toast, and l337f0x being ch347f0x..
External links
Edit