Spear Pillar
Talk

7
1,982pages on
this wiki
Pokémon
Spear Pillar



Universe
Pokémon
Appears in
Super Smash Bros. Brawl
Home stage to
Lucario
Pikachu
Pokémon Trainer
Jigglypuff
Availability
Unlockable
Crate Type
Normal
Tournament legal (SSBB)
Singles
Banned
Doubles
Banned
Spear Pillar made its debut in Pokémon Diamond and Pearl where Dialga and/or Palkia can be captured. It is set in the Sinnoh region.
This stage is banned in many tournaments due to large number of hazards that Palkia, Dialga, and Cresselia can create that can result in a turning tide for a lucky player (particularly when Palkia flips the stage sideways or turns it upside down).
Songs in bold must be unlocked
In the Super Smash Bros. seriesEdit
Spear Pillar is a playable stage in Super Smash Bros. Brawl, and Dialga, Palkia, Azelf, Uxie, Mesprit, and Cresselia make cameo appearances in the background to devastate the players. It is a destructible stage, which also features a cave underneath the surface which players can brawl in. Spear Pillar can be unlocked by completing Event 25.
Stage Elements
Edit
After the first few seconds in battle, Dialga, Palkia, or Cresselia will show up in the background of the stage. The player can tell what Pokémon will appear by the tint of the stage (Cresselia will appear more often if the Wild Pokemon Battle music is on, Dialga and Palkia will appear more often if the Dialga/Palkia Battle at Spear Pillar music is on). The Pokémon will perform different attacks when they appear:
Dialga and Palkia will also occasionally destroy a third of the top level of the stage.
After a while, the legendary Pokémon will vanish in a puff of smoke, leaving the brawl to continue normally for a short time. Soon enough, it will return exactly the same as before. Only one Pokémon warps in per fight - they cannot switch between themselves in the middle of a match.
Uxie, Azelf, and Mesprit, also make appearances here. However, these Pokémon only sit and watch; they do not conduct any other experiments on the stage.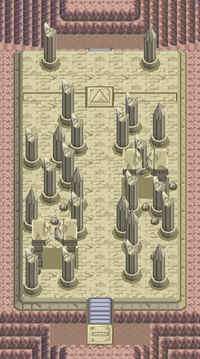 Spear Pillar debuts in Pokémon Diamond & Pearl, and can be found at the top of Mt. Coronet. In this game, the two legendary Pokémon Palkia and Dialga can be found at Spear Pillar. Team Galactic, the antagonists of Diamond & Pearl, travel up to Spear Pillar and awaken Dialga/Palkia, bound by a crystalline Red Chain, in order to destroy the world and create a new universe where the Galactic Boss, Cyrus, is deity and king. Dawn/Lucas travel up to Spear Pillar, where they impede Team Galactic's plan to control the legendary Pokémon by defeating their boss as his plan fails. Upon defeat, Team Galactic retreats and the player has the opportunity to catch Dialga/Palkia. High above the Spear Pillar is the Hall of Origin, where the omnipotent legendary Pokémon Arceus resides.